As you've probably figured out I'm British. I live in the far south of the UK in the county of Dorset. It is without doubt the most beautiful county in the whole of the UK. (OK. I'm biased). I've been planning for some time to do a (slightly off the wall) website on the area but as-yet just have not got round to it.
This page though is not it. This page is going to be an area I use to gather "stuff" so I don't forget it later and fail to add it to the new site. Like very worthwhile sites, excellent local businesses – that sort of thing. This "Dorset" page is (like the rest of the Chalk-ridge site) essentially my notes, ready for me to use when I need it.
The words here are going to be sparse and essentially just provide me (and you if you like) with a guide to what is going to be included.
Local Paths, By-Ways and Beaches
The Stour Valley Way. This is a superlative 65 miles path from Stourhead in Wiltshire down to Hengistbury Head in Dorset. The Stour Valley Way site provides detailed information on a great extent of this pathway especially around Christchurch. Hengistbury Head, which is an amazing local headland with a rich history also has its own site and provides a great deal of information on local history ging right back to Roman times.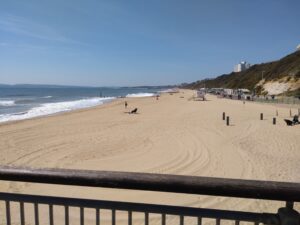 The Avon Valley Path. This is a 32 mile path along Dorset's other great river, the river Avon. Currently there is a Hampshire guide and a reasonable written account in this pdf. But… I also have the webname!! So one day (if/maybe/time allowing) I'll get round to having an independent Dorset orientated place on the site.
The Jurassic Coast. Need I say more? World heritage site. Prime area for fossil hunting. Absolutely off-the-scale beautiful. Link is to the Official Website.
Bournemouth, Poole and Christchurch Beaches. Most people make the mistake of thinking that there is but one Bournemouth Beach. In fact there are 23!
Local Politics.
Local politic in the UK (not just Dorset) is dying on its feet. We use a 3 tier system of governance.
Parliament (MP's etc)
County Councils/Unitary Authorities.
Parish/Town councils
Voter engagement with all 3 tiers has been falling, but tier 3 is particularly bad. Most (yes most!) seats at Parish/Town council level are uncontested. In Dorset last election there were even (I think) three Parish councils where literally nobody stood for election! I want to address this by increasing the visibility of Parish councils and parading some of the very useful work they do. Democracy in Dorset is important to where I live. So let's not let it die on its feet.
Excellent Dorset Businesses and Ventures where I live.
Heres a few for a start:
Aquatight Ltd. An excellent and reliable plumbing service. Experts in water softeners and boiling water taps.
Talking Babies. Midwife led antenatal, hypnobirthing and baby massage classes. Friendly, knowledgeable and cost effective.
Impetus Fitness. Cutting edge one-to-one or group fitness training for athletes and those simply wishing to improve their fitness. Face to face or remote. So international reach!
Lots more to come! The idea here is these businesses are not going to be the run-of-the-mill bog standard companies but they offer something fairly unique and different so they address an area of the market that is neglected or over-priced.
Boating
I love boats. I'm planning to have a fairly big section of where you can moor/store your boat and on all the local clubs, especially in Poole Harbour. I need to add a list of clubs here first.
That's it for now.