I love my Ender 3 but one thing I found quite sub-optimal was the lack of an appropriately sized spindle bobbin for the supplied spool holder. The result is the filament hangs off centre. The larger the diameter of the internal hole of the filament reel, the worse the problem is.
To me it looked like what was needed was a spindle adapter (or bobbin) which would make the spindle sit (more or less) at the centre of the reel. This would mean the filament tension would only have to cope with a radial load. Without the spindle adapter the feed motor has to in effect "lift" the reel to spool off more. Which leads to extra tension and potentially filament tangles as the filament "digs" into the pile on the reel instead of unreeling.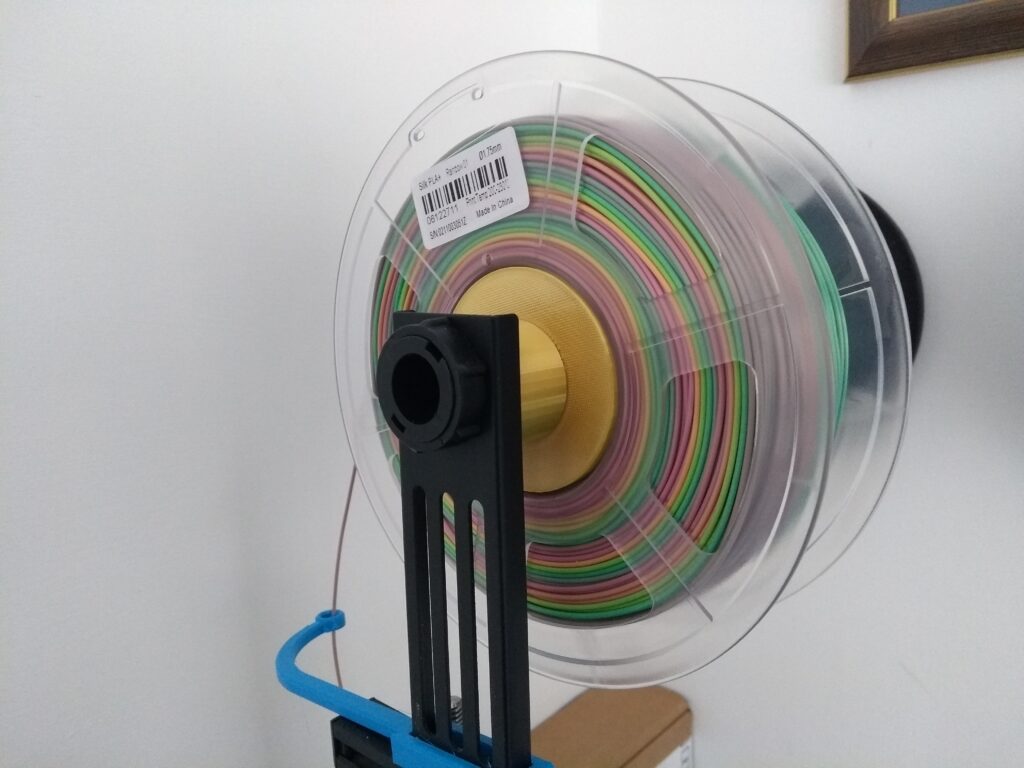 As there is no consensus on size of the central hole on the filament spool I had to design three. They differ on the outer diameter to match the central hole of the filament reel. As bobbins they have to slip on and off the supplied Ender 3 spindle easily so there is still a small amount of vertical slack but it is hugely reduced by the bobbin.
Creality Ender 3 Spool Holder – 3 Sizes
The smallest one supports supports reels with a 47mm diameter hole. The two others support 76mm and 56mm respectively. The STL and a Gcode file for each is available on Thingiverse on these links (47mm, 56mm, 76mm ). As I got caught with a bizarrely sized filament reel, the exterior diameter on the smallest bobbin has had it's outer diameter reduced to 44mm giving some extra leeway for tolerances on 47mm reels. I also managed to initially make the 47mm bobbin too long (a bad day) but that has been fixed in the files on Thingiverse.
The bobbin slots through the Reel. Then you slide the bobbin with its filament reel over the Creality Ender 3 spool holder. It is retained in position by the lip at the far end of the Ender 3 spool holder.
It really does seem to help prevent the damn thing from over tensioning the filament. To me it looks right too. The main over tensioning problem is with the bigger diameter spindle holes. These obviously would sit less centrally without the bobbin. But the 47mm bobbin still helps the filament flow easier. (IMHO anyway).
All items printed on my Ender 3
Works for me.