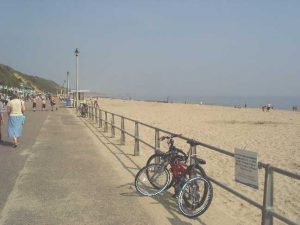 Around ten years ago I had placed all my Bournemouth beaches information on my Hengistbury Head site. As Hengistbury Head is really a small outpost of Bournemouth it seemed inappropriate.
Consequently I set up website specifically targeting this niche area so I could separate the information out into a more coherently named web-site.
The background:
Most people regard "Bournemouth Beach" as a single beach. It is in fact a number of beautiful sandy, safe and pristine clean beaches. Each beach has its own character and clientele, but many folk have a seriously stressful time finding somewhere to park especially during events like the Bournemouth Air Festival (that is 2018 page). As a consequence my busiest pages are the parking pages where I try and give some directions (and at least a post code) for the major car parks in Bournemouth and near to the individual beaches.
The Down-hill Slide
I had some serious trouble with the hosting for Bournemouth Beaches over the summer in 2017. The site was blatently throttled on what was supposedly an "unlimited access" account. Even so for an amateur site Bournemouth Beaches was really flying.
Then I made a couple of fateful mistakes.
Originally the site used Joomla CMS and was quite successful even in a crowded arena. (Bournemouth is a big tourist hotspot)
But I abandoned Joomla for WordPress in the hope of speeding it up. Big mistake! This change halved my traffic and made little difference to the loading speed. In fact arguablly it was worse. My naivety was that I thought Google would quickly sort out the redirections to the new page URL's. It didn't. So now I had a poorly indexed slow site.
Then, as access time became worse (10+ seconds sometimes) I compounded the falling visitor problem. I abandoned the failing WordPress format and went to a simple non database format and ditched a lot of the content.
While this did improve the loading speed, the throughput to the site halved again. Another big mistake!
So I may be moving or closing down Bournemouth Beaches soon. But first I'll try some more experimentation. What could possibly go wrong! It has been (to say the least) a brutal learning experience.
So if you want to see some of the glory that is Bournemouth and her beaches here is a Link to the simple Bournemouth Beaches site